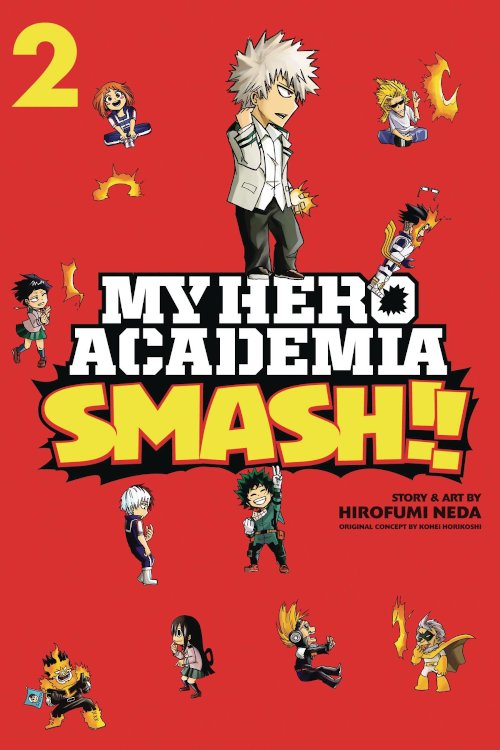 QTY
RANK
OVERALL
GRAPHIC NOVEL
UNIT
RANK
OVERALL
GRAPHIC NOVEL
DOLLAR
RANK
INDEX
ITEM CODE
DESCRIPTION
PRICE
VENDOR
1
27
117
1.93
JUN151643
MY HERO ACADEMIA GN VOL 01
$9.99
VIZ MEDIA LLC
2
37
110
1.77
OCT192381
ATTACK ON TITAN GN VOL 29 (MR)
$10.99
KODANSHA COMICS
3
81
86
1.22
SEP192357
DIRTY PAIR OMNIBUS GN (MR)
$18.99
SEVEN SEAS ENTERTAINMENT LLC
4
82
27
1.21
JUN190381
BERSERK DELUXE EDITION HC VOL 03 (MR)
$49.99
DARK HORSE COMICS
5
87
105
1.12
SEP198616
WEATHERING WITH YOU LIGHT NOVEL HC
$20.00
YEN ON
6
88
143
1.11
SEP192368
MONSTER MUSUME GN VOL 15 (MR)
$12.99
SEVEN SEAS ENTERTAINMENT LLC
7
94
70
1.08
OCT192395
SAINT YOUNG MEN HC GN VOL 01 (MR)
$23.99
KODANSHA COMICS
8
#N/A
#N/A
0.93
OCT192327
KONOSUBA LIGHT NOVEL SC VOL 10
$14.00
YEN ON
9
110
165
0.92
SEP192165
WORLDS END HAREM GN VOL 07 (MR)
$12.99
GHOST SHIP
10
#N/A
#N/A
0.85
SEP192270
SO IM SPIDER SO WHAT LIGHT NOVEL SC VOL 07
$14.00
YEN ON
11
128
175
0.84
OCT192342
GOBLIN SLAYER SIDE STORY YEAR ONE GN VOL 03 (MR)
$13.00
YEN PRESS
12
136
248
0.79
SEP151698
MY HERO ACADEMIA GN VOL 02
$9.99
VIZ MEDIA LLC
13
146
126
0.72
SEP192335
VINLAND SAGA GN VOL 11 (MR)
$22.99
KODANSHA COMICS
14
153
227
0.67
SEP192164
TO LOVE RU DARKNESS GN VOL 13 (MR)
$12.99
GHOST SHIP
15
159
68
0.66
OCT180363
BERSERK DELUXE EDITION HC VOL 01 (MR)
$49.99
DARK HORSE COMICS
16
160
147
0.65
AUG190326
GANTZ OMNIBUS TP VOL 04
$24.99
DARK HORSE COMICS
17
161
241
0.65
SEP192339
RISING OF THE SHIELD HERO GN VOL 12 MANGA
$11.95
ONE PEACE BOOKS
18
162
230
0.64
SEP192300
YOUR NAME ANOTHER SIDE EARTHBOUND GN VOL 02
$13.00
YEN PRESS
19
162
149
0.64
FEB151687
GYO 2IN1 DLX ED HC JUNJI ITO
$22.99
VIZ MEDIA LLC
20
183
245
0.59
SEP192376
REINCARNATED AS A SWORD GN VOL 01
$12.99
SEVEN SEAS ENTERTAINMENT LLC
21
183
229
0.59
SEP192369
MY FATHER IS A UNICORN GN VOL 01
$13.99
SEVEN SEAS ENTERTAINMENT LLC
22
#N/A
#N/A
0.59
SEP192263
KONOSUBA EXPLOSION ON WORLD LIGHT NOVEL SC VOL 01
$14.00
YEN ON
23
183
214
0.59
AUG192482
WITCHS PRINTING OFFICE GN VOL 01
$15.00
YEN PRESS
24
187
252
0.59
JUL190426
EMANON TP VOL 03 EMANON WANDERER
$14.99
DARK HORSE COMICS
25
194
337
0.58
DEC151700
MY HERO ACADEMIA GN VOL 03
$9.99
VIZ MEDIA LLC
26
196
301
0.57
SEP192190
SCARLET SOUL MANGA GN VOL 01
$10.99
TOKYOPOP
27
197
258
0.57
SEP192374
PLUS SIZED ELF GN VOL 04 (MR)
$12.99
SEVEN SEAS ENTERTAINMENT LLC
28
210
264
0.54
OCT192353
SWORD ART ONLINE HOLLOW REALIZATION GN VOL 05
$13.00
YEN PRESS
29
#N/A
#N/A
0.53
SEP192272
WOLF & PARCHMENT LIGHT NOVEL SC VOL 04 NEW THEORY
$14.00
YEN ON
30
217
271
0.52
SEP192360
GAL GOHAN GN VOL 01
$12.99
SEVEN SEAS ENTERTAINMENT LLC
31
223
329
0.51
OCT192386
EDENS ZERO GN VOL 05
$10.99
KODANSHA COMICS
32
243
415
0.46
JUN158141
ONE PUNCH MAN GN VOL 01
$9.99
VIZ MEDIA LLC
33
244
414
0.46
MAY182172
DEMON SLAYER KIMETSU NO YAIBA GN VOL 01
$9.99
VIZ MEDIA LLC
34
249
316
0.45
AUG190322
DRIFTERS TP VOL 06
$14.99
DARK HORSE COMICS
35
251
276
0.45
OCT192334
SHADOW STUDENT COUNCIL VP GIVES HER ALL GN VOL 01 (MR)
$15.00
YEN PRESS
36
252
322
0.45
SEP192293
OVERLORD A LA CARTE GN VOL 02
$13.00
YEN PRESS
37
#N/A
#N/A
0.42
OCT192331
THAT TIME I REINCARNATED SLIME LIGHT NOVEL SC VOL 07
$14.00
YEN ON
38
266
349
0.42
AUG192510
HEAVENLY DELUSION GN VOL 01
$12.95
DENPA BOOKS
39
267
350
0.42
OCT192348
KONOSUBA EXPLOSION WONDERFUL WORLD GN VOL 03
$13.00
YEN PRESS
40
268
458
0.42
AUG192431
MY HERO ACADEMIA GN VOL 21
$9.99
VIZ MEDIA LLC
41
269
467
0.41
MAR161872
MY HERO ACADEMIA GN VOL 04
$9.99
VIZ MEDIA LLC
42
269
362
0.41
APR151799
TOKYO GHOUL GN VOL 01
$12.99
VIZ MEDIA LLC
43
272
358
0.41
SEP192367
MISS KOBAYASHIS DRAGON MAID KANNA DAILY LIFE GN VOL 06
$12.99
SEVEN SEAS ENTERTAINMENT LLC
44
276
207
0.40
SEP192191
ARIA MANGA MASTERPIECE OMNIBUS GN VOL 04
$24.99
TOKYOPOP
45
280
506
0.39
JUN161950
MY HERO ACADEMIA GN VOL 05
$9.99
VIZ MEDIA LLC
46
#N/A
#N/A
0.39
AUG192476
RE ZERO SLIAW LIGHT NOVEL SC VOL 11
$14.00
YEN ON
47
281
321
0.39
SEP192290
MONSTER & BEAST GN VOL 02
$15.00
YEN PRESS
48
283
226
0.38
FEB192164
SMASHED JUNJI ITO STORY COLLECTION HC (MR)
$22.99
VIZ MEDIA LLC
49
295
382
0.37
SEP192354
ARIFURETA I HEART ISEKAI GN VOL 01 (MR)
$12.99
SEVEN SEAS ENTERTAINMENT LLC
50
302
393
0.36
OCT192388
GRANBLUE FANTASY GN VOL 02
$12.99
KODANSHA COMICS
This information may not be reproduced in any format without the express permission of Diamond Comic Distributors.
Item codes followed by -M indicate multiple covers and skus at the standard SRP.
How does Diamond calculate the charts? It all starts at the comic book shop.
Data for Diamond's sales charts — which includes the monthly market shares and all top product charts — are compiled by Diamond Comic Distributors from sales made to thousands of comic book specialty shops located in North America and around the world. Additional sales made to online merchants and other specialty stores may be included as well.
Unit and dollar market shares are calculated based upon orders for comic books, graphic novels, and magazines invoiced and shipped to Diamond customers during any given month, which comprises pre-orders, advance reorders, and reorders, minus any copies that are received back from a title marked as returnable. Please note that comics marked with an asterisk (*) have had their reported quantities reduced due to retailer returnability, and thus may rank lower on the charts than their actual sales would reflect.
About the Diamond Sales Index: The Sales Index of selected monthly Best Seller Charts is presented as a comparative tool for retailers and publishers. It presents Diamond's monthly sales for individual titles in relation to Diamond's total sales for the issue of DC Comics' monthly Batman comic book. (Batman is used as the control title — with a value of 100 — because sales of Batman usually remain relatively stable.) This allows for easy comparison to other titles and helps retailers gauge their orders for all other titles. This formula is only a guide, other factors may impact a titles' ability to sell in certain locations and clientele.