2019 Diamond Retailer Summit Gets Underway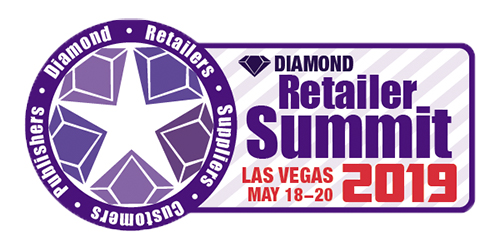 Over five hundred attendees—350-plus comic shop retailers representing 230 storefronts, and over 150 publisher and supplier representatives, as well as top Diamond executives and staff– have convened in Las Vegas for the comics industry's premier trade event, the 2019 Diamond Retailer Summit. The industry's leading retailers, publishers, and suppliers will convene for three days of workshops, presentations, and discussions taking place Saturday, May 18 through Monday, May 20 at Planet Hollywood in Las Vegas, Nevada.
"We're excited to once again have the opportunity to meet with comic shop retailers at the Summit," said Diamond Director of Marketing, Dan Manser. "It's a great time to imagine what our collaborative efforts mean for the future of the industry as we get down to business at the Summit."
An integral part of what makes the Summit an invaluable experience will be the insight attendees gain from the retailing workshops, supplier presentations, and the retailers-only exhibit hall. These avenues provide retailers with the opportunity to learn more about publishers' upcoming plans, ways to effectively market products and leverage new trends in the comic book industry, and provide direct feedback to suppliers, as well as Diamond.
Additional Retailer Summit Events Include:
80's Retro Party Opening Reception
Breakfast, lunch, and dinner presentations from over twenty publishers
DC and Marvel Comics Forum Sessions
Panel discussions and workshops
ComicSuite and PullBox Demos
Diamond would like to thank its Summit Sponsors for their generous contributions to the event:
Gold Sponsors: AfterShock Comics, BOOM! Studios, Dark Horse Comics, DC Entertainment, IDW Publishing, Image Comics, and Marvel Comics
Silver Sponsors: Diamond Select Toys, Lion Forge Comics, Penguin Random House, DK, Quirk Books, SD Toys Merchandising, Titan Comics, Valiant Entertainment, and Vault Comics
Bronze Sponsors: Funko, Humanoids, Albatross Funnybooks, Anomaly Productions, Avenue 4 Communications, Cave Pictures, Kodansha Comics, Mad Cave Studios, Rebellion Developments, Dynamite Entertainment, Source Point Press, VIZ Media, Paizo Publishing, Alliance Game Distributors
Exhibit Sponsors: Archie Comics, AWA Studios, Beside Press, 1First & Devil's Due Comics, Gemstone Publishing, Golden Apple Books, Impact Theory, Sons of Chaos, and TOKYOPOP
Additional Sponsors: Book Industry Charitable Foundation (BINC), Comic Book Legal Defense Fund (CBLDF), Transcontinental Printing
Summit attendees are encouraged follow Diamond on Twitter and Facebook and discuss and tag summit news using #DiamondSummit.

For more information about the 2019 Retailer Summit, visit the "Summits" tab at www.diamondcomics.com.