Diamond Announces Top Products for September 2021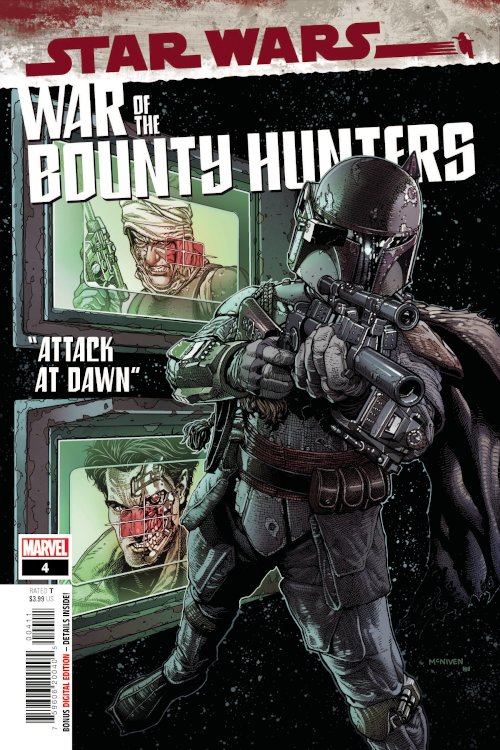 Marvel Comics' Star Wars: War of the Bounty Hunters #4 most-ordered comic book in September
Image Comics' Stray Dogs the month's top graphic novel
Funko's PREVIEWS Exclusive POP! Marvel Heroes: Iron Man Mk. IV with Gantry Vinyl Figure month's top toy product
(BALTIMORE, MD) — (October 29, 2021) — Charles Soule and Luke Ross' Star Wars: War of the Bounty Hunters #4, the penultimate chapter of Marvel Comics' Star Wars crossover event, was September's best-selling comic book through Diamond Comic Distributors, the world's largest distributor of comics, graphic novels, and pop culture merchandise.
SEPTEMBER'S COMIC BOOKS
Marvel Comics had eight comics among September's top ten book, including the final two chapters of Nick Spencer's run on Amazing Spider-Man; issue #73 ranked #2 and issue #74 ranked #4. Jonathan Hickman and Valerio Schiti's Inferno #1 ranked #3, and Tom Taylor and Iban Coello's Dark Ages #1 ranked #5. Other Marvel books in the top ten include Extreme Carnage: Toxin #1, the Ultimate Comics: Fallout #4 Fascimile Edition, and Daredevil #34.
IDW Publishing's Teenage Mutant Ninja Turtles: The Last Ronin #4, the penultimate chapter of Kevin Eastman's future Turtles tale, was the publisher's top book for September at #7.
Image Comics' Primordial #1, the first part of Jeff Lemire and Andrea Sorrentino's secret history of the American and Soviet space programs, ranked #10 for the month.
Among the premier publishers, Masters of the Universe: Revelation #3, a prequel to the Netflix animated series, was Dark Horse Comics' top book for the month at #27; BOOM! Studios' Something Is Killing the Children #20 ranked #28; and Dynamite Entertainment's Army of Darkness: 1979 #1 was their best-selling book at #58.
SEPTEMBER'S GRAPHIC NOVELS
Tony Fleecs and Trish Forstner's critically acclaimed Stray Dogs from Image Comics was September's best-selling graphic novel. Image had three titles among the month's top ten graphic novels.
Marvel Comics had five titles in the top ten, and the Spider-Man by Todd McFarlane Omnibus, collecting his 1990-1991 "adjectiveless" series, was their top book at #2.
The 29th volume of Kouhei Horikoshi's My Hero Academia, the best-selling manga series from VIZ Media, ranked #4 for the month.
Also in the top ten, Keanu Reeves, Matt Kindt, Alessandro Vitti, and Bill Crabtree's BRZRKR Volume 1 was BOOM! Studios' top collection for September at #8.
Among the premier publishers, Dark Horse Comics' top graphic novel, EC Archives: Shock Suspenstories ranked #18; IDW Publishing's Teenage Mutant Ninja Turtles: Jennika II ranked #93; and Dynamite Entertainment's The Boys Omnibus Volume 1 ranked #103.
SEPTEMBER'S TOYS & GAMES
Funko's POP! Marvel Iron Man 2: Iron Man Mk. IV with Gantry Glow-in-the-Dark Deluxe Vinyl Figure, a PREVIEWS Exclusive release, was September's best-selling toy product.
Also from Funko, the PREVIEWS Exclusive POP! DC Heroes: Batman White Knight: Batman/The Joker Vinyl Figure 2-Pack charted for a second straight month and ranked #7 for September.
threezero's Transformers: War for Cybertron: Nemesis Prime Deluxe Figure, another PREVIEWS Exclusive product, ranked #2 for the month. Also, Diamond Select Toys had four products in the top ten, with the Cobra Kai Deluxe Action Figure Box Set the manufacturer's top product at #3.
Paizo Publishing's Secrets of Magic, a sourcebook for the Pathfinder role-playing game, was September's best-selling game product from Diamond and one of Paizo's five products among the top ten.
Wizards of the Coast's Magic the Gathering Trading Card Game: Adventures in the Forgotten Realms also charted in September; the Set Booster Packs ranked #2, the Collector Booster Packs ranked #3, and Draft Booster Packs ranked #9.
TOP 10 COMIC BOOKS BY UNITS SOLD
TOP 10 GRAPHIC NOVELS BY UNITS SOLD
TOP 10 TOYS BY DOLLARS INVOICED
TOP 10 GAMES BY DOLLARS INVOICED
How does Diamond calculate the charts? It all starts at the comic book shop.
Data for Diamond's sales charts are compiled by Diamond Comic Distributors from sales made to thousands of comic book specialty shops located in North America and around the world. Additional sales made to online merchants and other specialty retailers may be included as well.
Ranking is calculated based upon orders for comic books, graphic novels, toys and games invoiced and shipped to Diamond customers during any given month, which comprises pre-orders, advance reorders, and reorders, minus any products that are received back from a title marked as returnable. Please note that products marked with an asterisk (*) have had their reported quantities reduced due to retailer returnability, and thus may rank lower on the charts than their actual sales would reflect.
Variant edition comic books and graphic novels at the same price point count as a single SKU. Variant edition comic books, lenticular covers, digital combo packs, and graphic novels at different price points count as separate SKUs for each edition.
---
ABOUT DIAMOND COMIC DISTRIBUTORS (DCD)—Diamond is at the nexus of comics and pop culture merchandise. Based in Baltimore, MD, DCD is the world's largest distributor of English-language comic books and pop-culture related merchandise, servicing thousands of specialty retailers worldwide. For more information, visit Diamond on the web at www.diamondcomics.com.
© 2021 Diamond Comic Distributors, Inc. All rights reserved. Diamond, the Diamond logo, Diamond Books logo, and PREVIEWS are either registered trademarks or trademarks of Diamond Comic Distributors in the United States and/or other countries. All other trademarks are the property of their respective copyright owners.