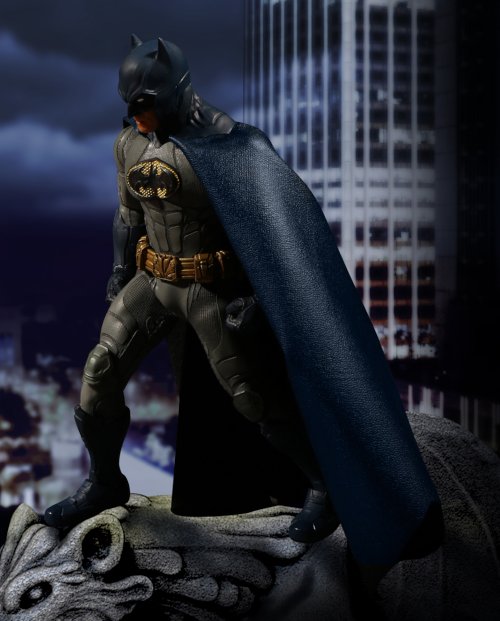 Mezco's One:12 Collective: DC Comics: Sovereign Knight Batman (Blue Costume) Action Figure, a PREVIEWS Exclusive version of the figure series that looks at Batman through the ages, was August's best-selling figure.
Funko had three products in the top ten, all of them PREVIEWS Exclusives: the POP! DC Heroes: Batman Damned Vinyl Figure ranked #2, the POP! DC Heroes: The Batman Who Laughs Vinyl Figure ranked #3, and the POP! Marvel: Nova Prime Vinyl Figure ranked #8. Diamond Select Toys' Marvel Select: Psylocke Figure ranked #6.
DC Collectibles had two products in the top ten: the Batman: The Animated Series: Batcycle & Figure Set ranked #7 and the DC Designer Series: Nightwing by Jim Lee Statue ranked #9.
TOP 25 TOYS
Based on Total Retail Dollar Sales of Products Invoiced in August 2019
DOLLAR
RANK
QTY
RANK
ITEM
CODE
DESCRIPTION
PRICE
VENDOR
1
10
JUN188303
ONE-12 COLLECTIVE DC PX SOVEREIGN KNIGHT BATMAN BLUE AF
$56.00
MEZCO TOYS
2
1
DEC188715
POP DC HEROES BATMAN DAMNED PX VINYL FIGURE
$11.99
FUNKO
3
2
JUN188595
POP DC HEROES BATMAN WHO LAUGHS PX VINYL FIGURE
$11.99
FUNKO
4
53
APR198748
X-FORCE LEGENDS 6IN AF ASST 201901
$122.00
HASBRO TOY GROUP
5
39
JAN199285
MARVEL LEGENDS GEAR ENDGAME POWER GAUNTLET
$74.25
HASBRO TOY GROUP
6
7
FEB192448
MARVEL SELECT PSYLOCKE AF
$29.99
DIAMOND SELECT TOYS LLC
7
18
JAN190709
BATMAN ANIMATED SERIES BATCYCLE & AF SET
$60.00
DC COMICS
8
3
OCT188711
POP MARVEL NOVA PRIME PX VINYL FIGURE
$12.99
FUNKO
9
58
JAN190712
DC DESIGNER SER NIGHTWING BY JIM LEE STATUE
$150.00
DC COMICS
10
76
SEP188638
MOTU SKELETOR 1/6 SCALE COLLECTIBLE FIGURE
$104.00
MONDO TEES LLC
11
14
APR182164
MARVEL GALLERY AVENGERS 3 THOR PVC FIGURE
$49.99
DIAMOND SELECT TOYS LLC
12
4
SEP188215
POP MARVEL SPIDER-PUNK PX VINYL FIGURE
$11.99
FUNKO
13
9
JAN199284
SDCC 2019 DC TMNT MICHAELANGELO AS BATMAN AF
$30.00
DC COMICS
14
13
MAR192442
BRUCE LEE SELECT YELLOW JUMPSUIT AF
$29.99
DIAMOND SELECT TOYS LLC
15
44
APR188568
ONE-12 COLLECTIVE MARVEL LOGAN AF
$56.00
MEZCO TOYS
16
6
JUL162708
POP MARVEL DEADPOOL DRESSED TO KILL PX VINYL FIG
$12.99
FUNKO
17
11
JAN192554
MARVEL SELECT CAPTAIN MARVEL MOVIE AF
$29.99
DIAMOND SELECT TOYS LLC
18
73
NOV188720
MARVEL COMICS AVENGERS SERIES THANOS ARTFX+ STATUE
$73.00
KOTO INC.
19
5
DEC188716
SDCC 2019 POP RICK & MORTY PICKLE RICK GID PX VIN FIG
$11.99
FUNKO
20
97
APR198836
X-MEN LEGENDS RETRO 6IN AF ASST 201901
$91.50
HASBRO TOY GROUP
21
68
JAN190710
DC COVER GIRLS BLACK CANARY BY JOELLE JONES STATUE
$125.00
DC COMICS
22
50
SEP188531
OVERWATCH TORBJRN NENDOROID AF CLASSIC SKIN VER
$74.99
GOOD SMILE COMPANY
23
61
JUN188770
ONE-12 COLLECTIVE MARVEL NETFLIX DAREDEVIL AF
$56.00
MEZCO TOYS
24
51
JAN190711
DARK KNIGHTS METAL BATMAN THE DROWNED STATUE
$85.00
DC COMICS
25
142
JAN198531
MARVEL THOR ODINSON ARTFX PREMIER STATUE
$117.75
KOTO INC.
This information may not be reproduced in any format without the express permission of Diamond Comic Distributors.
How does Diamond calculate the charts? It all starts at the comic book shop.
Data for Diamond's sales charts — which includes the monthly market shares and all top product charts — are compiled by Diamond Comic Distributors from sales made to thousands of comic book specialty shops located in North America and around the world. Additional sales made to online merchants and other specialty stores may be included as well.
Unit and dollar market shares are calculated based upon orders for comic books, graphic novels, and magazines invoiced and shipped to Diamond customers during any given month, which comprises pre-orders, advance reorders, and reorders, minus any copies that are distributed free of cost.