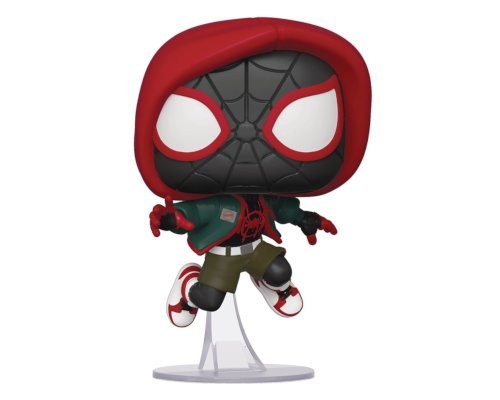 Funko's POP! Marvel: Spider-Man: Into the Spider-Verse: Casual Miles Morales Vinyl Figure, a PREVIEWS Exclusive figure based on the award-winning animated film, was October's best-selling toy product.
Also in the top ten from Funko were two additional PREVIEWS Exclusive figures: the POP! DC Heroes: The Red Death Vinyl Figure at #2 and the POP! DC Heroes: Batwoman Vinyl Figure at #4.
Good Smith's Overwatch: D.Va Figma ranked #3.
Mondo Tees' Masters of the Universe: Faker 1/6-Scale Collector Figureranked #5 for.
Diamond Select Toys had three products in the top ten: the Marvel Select: Unleashed Hulk Action Figure at #6, the Marvel Milestones: Thor Ragnarök: Gladiator Hulk Statue at #8, and the Marvel Select: Carnage Action Figure at #10.
Also in the top ten were Mezco Toys with the One:12 Collective: Marvel Comics: Cyclops Action Figure at #7 and Kotobukiya with the Marvel Comics: Domino Bishoujo Statue at #9.
TOP 25 TOYS
Based on Total Retail Dollar Sales of Products Invoiced in October 2019
DOLLAR
RANK
QTY
RANK
ITEM
CODE
DESCRIPTION
PRICE
VENDOR
1
1
JAN199071
POP MARVEL INTO SPIDERVERSE CASUAL MILES MORALES PX VIN FIG
$12.99
FUNKO
2
2
JUN192566
POP DC HEROES RED DEATH PX VINYL FIGURE
$11.99
FUNKO
3
12
JUL188939
OVERWATCH D.VA FIGMA AF
$89.99
GOOD SMILE COMPANY
4
3
JAN199072
POP HEROES DC BATWOMAN PX VIN FIG
$11.99
FUNKO
5
41
NOV188738
MOTU FAKER PX 1/6 SCALE COLLECTIBLE FIGURE
$160.00
MONDO TEES LLC
6
4
AUG118205
MARVEL SELECT UNLEASHED HULK AF
$29.99
DIAMOND SELECT TOYS LLC
7
37
JUL188503
ONE-12 COLLECTIVE MARVEL CYCLOPS AF (NET)
$72.00
MEZCO TOYS
8
236
MAY182309
MARVEL MILESTONES THOR RAGNAROK GLADIATOR HULK STATUE
$500.00
DIAMOND SELECT TOYS LLC
9
52
JAN199191
MARVEL DOMINO BISHOUJO STATUE (NET)
$73.00
KOTO INC.
10
5
NOV142179
MARVEL SELECT CARNAGE AF
$29.99
DIAMOND SELECT TOYS LLC
11
18
MAR190628
HARLEY QUINN RED WHITE & BLACK STATUE BY GREG HORN
$80.00
DC COMICS
12
128
DEC188965
BATMAN FAMILY Q-MASTER DIORAMA
$199.95
QUANTUM MECHANIX INC
13
87
NOV188724
TOA HEAVY INDUSTRIES SYNTHETIC HUMAN 1/6 SCALE AF
$150.00
1000 TOYS INC.
14
7
JUN182325
MARVEL GALLERY AVENGERS 3 IRON SPIDER-MAN PVC FIGURE
$49.99
DIAMOND SELECT TOYS LLC
15
6
SEP182329
JOHN WICK SELECT AF
$24.99
DIAMOND SELECT TOYS LLC
16
35
MAR190627
DC PRIME BATMAN ACTION FIGURE
$125.00
DC COMICS
17
355
OCT188840
TRANSFORMERS MASTERPIECE OPTIMUS PRIME VER3 AF (NET)
$319.50
HASBRO TOY GROUP
18
8
JUN192381
IT CHAPTER 2 GALLERY PENNYWISE PVC FIGURE
$49.99
DIAMOND SELECT TOYS LLC
19
71
APR190585
DC DESIGNER SER BATMAN BY FRANK MILLER STATUE
$150.00
DC COMICS
20
86
AUG188624
BATMAN NINJA CATWOMAN FIGMA AF
$109.99
GOOD SMILE COMPANY
21
157
JUN198420
AVENGERS 4 LEGENDS 6IN AF ASST 201903 (NET)
$122.00
HASBRO TOY GROUP
22
16
MAY192378
MARVEL GALLERY PUNISHER COMIC PVC FIG
$49.99
DIAMOND SELECT TOYS LLC
23
22
SEP188529
MEGA MAN X NENDOROID AF
$59.99
GOOD SMILE COMPANY
24
40
MAR190629
BATMAN FAMILY RED HOOD MULTI PART STATUE
$80.00
DC COMICS
25
100
JUN198001
AVENGERS LEGENDS GEAR 80TH ANN CAPTAIN AMERICA SHIELD (NET)
$74.50
HASBRO TOY GROUP
This information may not be reproduced in any format without the express permission of Diamond Comic Distributors.
How does Diamond calculate the charts? It all starts at the comic book shop.
Data for Diamond's sales charts — which includes the monthly market shares and all top product charts — are compiled by Diamond Comic Distributors from sales made to thousands of comic book specialty shops located in North America and around the world. Additional sales made to online merchants and other specialty stores may be included as well.
Unit and dollar market shares are calculated based upon orders for comic books, graphic novels, and magazines invoiced and shipped to Diamond customers during any given month, which comprises pre-orders, advance reorders, and reorders, minus any copies that are distributed free of cost.